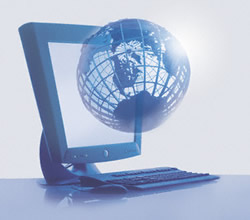 Electronic Banking Systems EFT provides ACH processing services and electronic payment systems to businesses of all sizes. Our primary service is Electronic Funds Transfer of Funds (EFT) from a customer to a merchant bank account, including Check by Phone EFT and Direct Deposit for paying employees and vendors. EBSEFT works with hundreds of check recovery and collection agencies to electronically collect on their NSF paper checks checks using RCK processing and Consolidated Check Returns.
Our services include Point of Sale Check Conversion for retail customers and electronic Check Verification services.
We provide Credit Card Processing using our state of the art Virtual Terminal which provides for recurring processing of monthly debit files. Many of our clients start off using Q~Check - an easy to use check by phone or fax check printing software.
HIGH RISK PROCESSING –

we process Credit Cards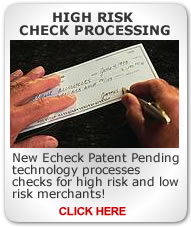 and EChecks for high
risk merchants using our state
of the art virtual terminals. We provide the best
services at very competitive pricing.


OUR SYSTEMS INCLUDE HIGH SPEED
VIRTUAL TERMINALS FOR CREDIT CARD AND
CHECK PROCESSING FOR HIGH RISK MERCHANTS
We shop all of our banks to obtain the best credit card
rates and echeck services available for each merchant's business type - we are all about finding the best services available for our clients.

ALL PROCESSING UTILIZES VIRTUAL TERMI
NALS
OR DIRECT INTERNET UPLOAD